Tag: Heart Charms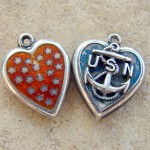 I wanted to share with you some photos of two puffy heart charms that have my name engraved on the back. One is a US Navy Anchor repousse, and the other is an enamel finish with stars in the design. I have no idea who the "Wandas" were who first owned these, but it seems fitting that since I'm a Wanda, I should have them now.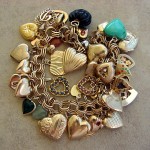 Did you ever wonder how a heart came to symbolize love and Valentine's day? There are a few theories, not all of them romantic. Here are a few legends and lore behind the heart symbol.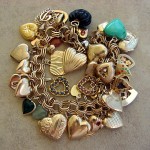 This is my gold heart bracelet. Some are lockets, some puffy hearts, some have stones, some ARE stones, some are enamel, and all are made of 10K, 14K, or 18K gold, even if it's just the bail. I never wear it because it's too noisy.