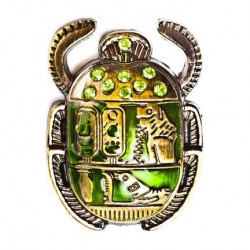 The golden age of modern scarab beetle jewelry was the 1950's when they were used as carved stones in bracelets, earring, pendants, and rings.  The Van Dell jewelry company made a wide range of scarab jewelry which was very popular.  Since that time Scarabs have fallen out of favor as a fashion accessory.   Lately however I've noticed more and more jewelry companies including scarab beetle gemstones in their lines.  The history of the scarab is as fascinating as the jeweled critters themselves.
Scarabs were popular amulets in ancient Egypt, meaning they have been around for 3000 years.  The Egyptian god Ra was believed to push the setting sun along the skyline in the same way as the beetle rolls dung into a ball for eating and laying eggs.  In many artifacts the scarab beetle is shown pushing the sun along its course in the sky.
Scarabs were a symbolic motif that represented regeneration and rebirth, and was thought to bring protection, luck and vitality to the wearer.  They were given to soldiers before battle, and women for fertility.  They were also put into the tombs of Egyptian royalty as grave goods.  One of the most famous Egyptian kings to memorialize the Scarab Beetle was Amenhotep III.  Anybody who has seen any of the "Mummy" series of films starring Brendon Fraser will recognize the name and remember the scenes of millions of beetles consuming Amenhotep's enemies.
Scarab jewelry was crafted from many different of stones and materials.  Ancient examples of scarab beads have been found made from clay, glass, bone, metal, wood, and gemstones.  Often plain media was glazed in different colors to represent symbolism.  The color blue was symbolic of the Nile River, red for the sun, green for new life.
Recent interest in Scarab Beetle jewelry, both new and vintage, is creating a growing niche market for the beautiful colored stone jewelry.  Designers are starting to include scarab stones on all types of jewelry as wells as belts and purses.  The older jewelry from the 1950s is still relatively inexpensive as collector jewelry goes, and the colors make them fun to mix and match as fashion accessories.  I'm keeping an eye on the price of the vintage pieces to see if the prices rise as fashion designers incorporate modern scarab jewelry into their lines.





Category: All About Old Jewelry
Wanda Fitzgerald is a Florida native and an vintage charm collector who loves to share her adventures in an e-commerce jewelry business with anyone who is interested.