Just today I received the last couple of charms needed to finish 2 of the Zodiac theme bracelets I've been collecting.  Both are colorful enamel bracelets.
The first is a baked enamel shield style.  I selected a dot / dash bracelet with a sister clasp to showcase these charms.  There are extra links in the bracelet so I spaced them in groups of 3 with one empty link between.  Maybe I can find some type of filler for the extra links.  Or maybe I'll just leave it the way it is.  When it's on my arm you can't tell.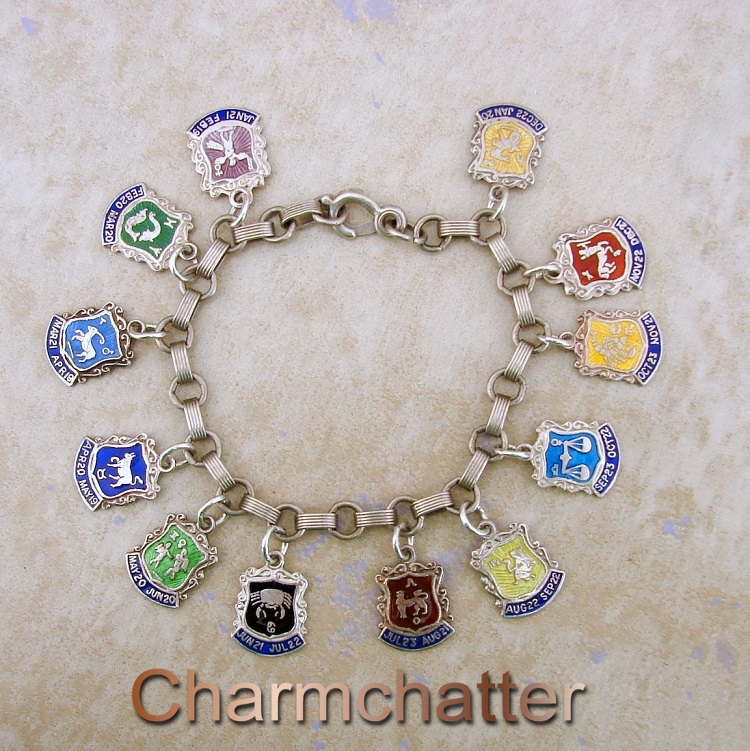 Each shield charm has the symbol for the sign on the front with the dates shown underneath.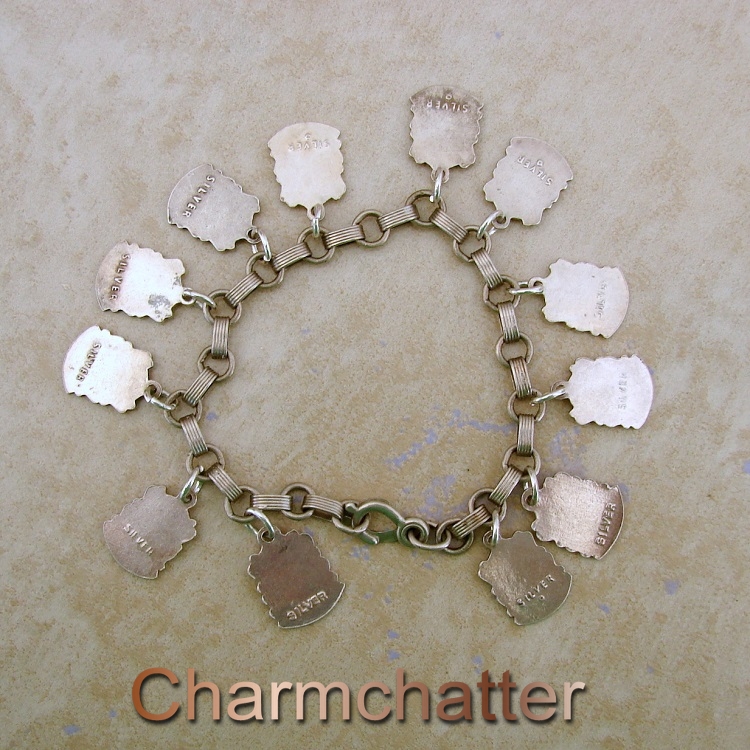 They all have Silver on the back. Because they aren't marked sterling or 925 they aren't made in the U.S. and are most likely European or British.  I haven't researched them, I just liked the way they look and started collecting.
Here is the 2nd Horoscope or Astrology themed bracelet.  These charms are trapezoid shaped little beauties with colored enamel corners.  Some are darker than others and I'm not sure if they are supposed to be that way or just varying degrees of patina.  Maybe someone cleaned Cancer and Capricorn before I bought them.  This style also has the Zodiac graphic on the front and are marked Sterling on the back.  Once again I don't know who made them.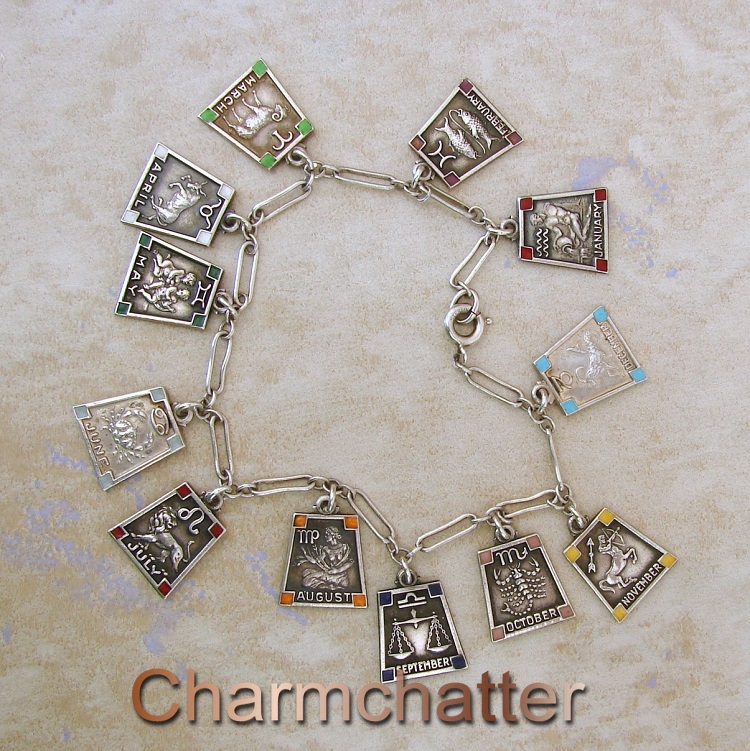 You can see this bracelet has both round and long oval links.  There are just enough round links to add one charm to each so it was perfect.
And here is the back.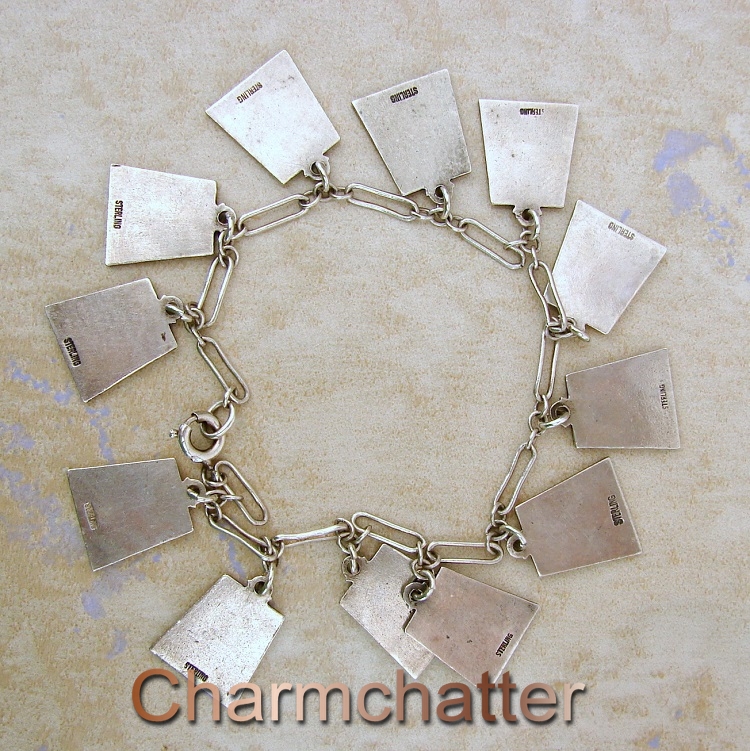 I'm off to see what I can find online about both of these style of vintage Zodiac charms.  If you have information I'd love to read your comments.  As always thanks for reading.
Summary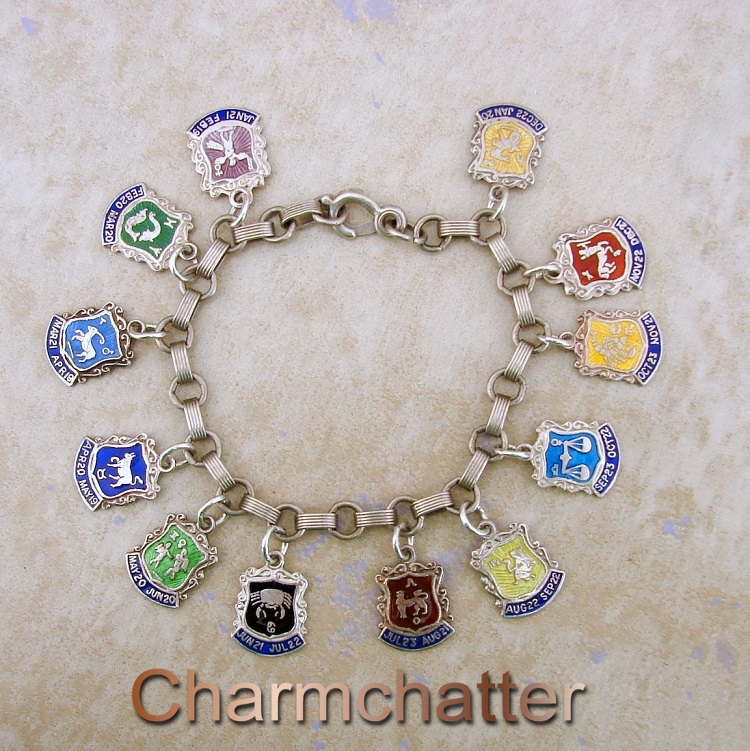 Article Name
Recently Completed Vintage Enamel Zodiac Charm Bracelets
Description
I've just completed 2 of the many vintage Zodiac enamel charm bracelets I have in the works. Take a look at my Zodiac shield and trapezoid vintage charm bracelets.
Author




Category: Fitzcharming's Collections
Wanda Fitzgerald is a Florida native and an vintage charm collector who loves to share her adventures in an e-commerce jewelry business with anyone who is interested.