The old Bates & Klinke Company produced some of my favorite collectible travel charms.   Bates & Klinke, Inc. was founded in 1919 in Attleboro Massachusetts by Harold Bates & Oscar Klinke.  Attleboro was a major center for jewelry production in the early 20th century. Bates & Klinke are noted for making souvenir silver charms from tourist travel destinations, along with souvenir spoons, brass souvenir plates, medals, keychains, & military insignia.  Most of the travel charms were produced in the 1940s.  Today the company does business as B&J Manufacturing Corporation.   The older Bates & Klinke charms from travel destinations are in high demand with collectors today.  There are 4 shapes that are the most sought after: an Art Deco triangular shape, a round disc, a scalloped disc, and a ship's wheel disc.
I am always on the lookout for these high quality vintage charms and I know of several collectors that have made theme bracelets entirely of BK travel charms representing U.S. states, tourist destinations, and national parks.  I recommend to anyone that is interested in charm collecting to keep your eyes peeled for these as they are going up in value all the time.   It's a great way to commemorate travel and fun to find these old treasures.
Summary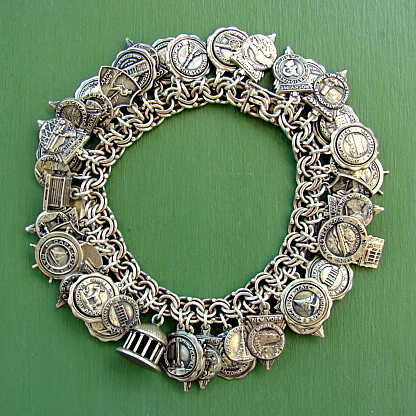 Article Name
Charm History - Bates & Klinke, Inc.
Description
Summary of the history of travel and souvenir charms and bracelets produced by the Bates and Klinke company in the 1940. These charms are collectible now.
Author




Category: All About Old Jewelry
Wanda Fitzgerald is a Florida native and an vintage charm collector who loves to share her adventures in an e-commerce jewelry business with anyone who is interested.