Artistic jewelry has gained a lot of popularity in the past few years. There are some amazing examples for sale on a variety of online marketplaces and individual websites. One of the best places that I've found to buy altered art charm bracelets is Etsy, which is a venue created for folks that sell handmade items.
I've seen some great bracelets made with all kinds of unique media. For example some have charms made from lacquered puzzle pieces, scrabble tiles, old coins, and old ephemera glued and sealed onto small domino pieces. They are usually jazzed up with trendy beads and other crafty adornments.
For adventurous jewelry lovers that have a bit of skill and equipment, there are lots of books that have detailed instructions and photos on how to expand beyond the basics of altered art jewelry. There is an amazing array of innovative techniques. In my local craft store there are books on how to design charm bracelets from polymer clay, dice and game pieces, and tiny photo frames fitted with miniature print collage paper, to name a few.
Whether custom created by the wearer or purchased ready made by someone else, the possibilities are endless. I recommend browsing online and looking at some handmade jewelry books at a craft shop to get ideas for designs. There are lots of fun ways to use recycled, up-cycled, and repurposed materials to make fun and personalized jewelry.
Summary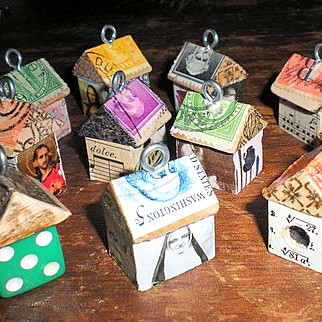 Article Name
Creative Altered Art Jewelry Techniques
Description
Fitzcharmings look at altered art jewelry
Author




Category: Creating Bracelets
Wanda Fitzgerald is a Florida native and an vintage charm collector who loves to share her adventures in an e-commerce jewelry business with anyone who is interested.