Dept 56 makes a collection of silver bracelet charms that are mini versions of their Christmas Villages buildings.  I've collected a few and am always on the lookout for more.  I'm not sure how many charms are in the series or when they were offered for sale by the company because I haven't found any information about them.  Haven't actually looked too hard so maybe writing this blog post will inspire me to find a Dept 56 jewelry catalog somewhere.  Each charm has the name of the collectible Department 56 Christmas building it represents on the bottom.  The bracelet also came in a Dept 56 box.  These charms are quite heavy and I probably won't ever wear the bracelet but I like to look at it and play with the little buildings.  They're cute and fun to collect.
Summary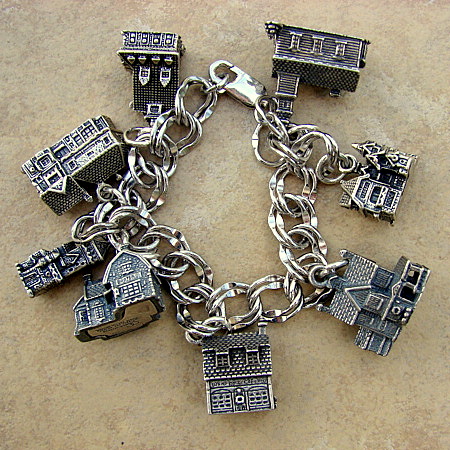 Article Name
Dept 56 Christmas Village Silver Charm Bracelet
Description
Charmcrazey's collection of Dept 56 Village Miniature Building Charms
Author




Category: Private Jewelry Collection
Wanda Fitzgerald is a Florida native and an vintage charm collector who loves to share her adventures in an e-commerce jewelry business with anyone who is interested.