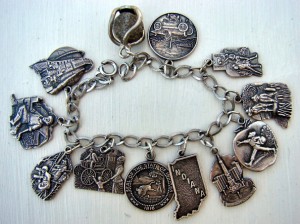 In the 1960s, the Heritage Company produced a line of state theme charm bracelets that were used as promotional giveaways that banks gave their customers when they made deposits into an account.  Each time a customer made a deposit they were awarded either a starter bracelet or a charm to add to it.  I'm not sure how many state themes were produced, it's likely a function of where the banks were located.  I know the collections include Ohio, Kentucky, Michigan, Pennsylvania, and Massachusetts, I've got complete examples of Michigan and Indiana so I thought I'd share them here with you.  Notice that both sides of the charms are detailed – one side with a visual and the other with the name of the attraction related to that state.  And each bracelet also has a stone or vial of sand representing the state.  The charms are stamped with the Heritage hallmark which is a bell with a letter H inside.  There are still quite a few of these bracelets that can be found completely in tact and are a collectible part of marketing history and also a charming addition to a bracelet collection.
Summary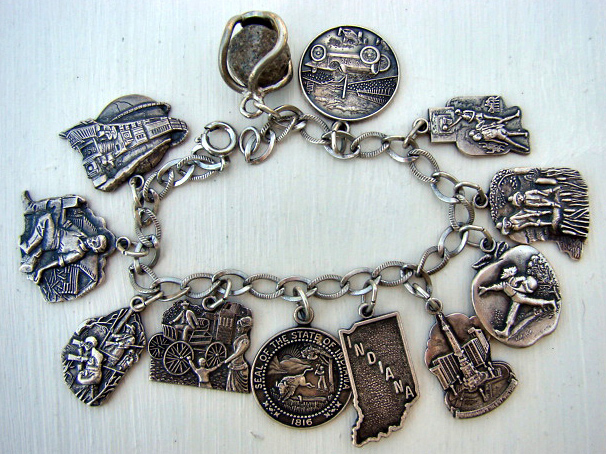 Article Name
Heritage State Promotional Charm Bracelets
Description
Series of Heritage State Charm Bracelets given as promotions from banks in the 1960s
Author




Category: All About Old Jewelry, Private Jewelry Collection
Wanda Fitzgerald is a Florida native and an vintage charm collector who loves to share her adventures in an e-commerce jewelry business with anyone who is interested.