Sarah Coventry jewelry was one of the most popular costume jewelry lines in the 1960s and 1970s. It was sold at home parties like Tupperware, Mary Kay Cosmetics, and Home Interiors. I remember going to jewelry parties with my mother when I was young. Now those pieces are considered vintage and I'm running across a lot of them in my searches at flea markets and antique shops. Sarah Coventry jewelry is a sister company to Emmons Jewelry Company, which was also sold at home parties. Both companies were owned by members of the same family.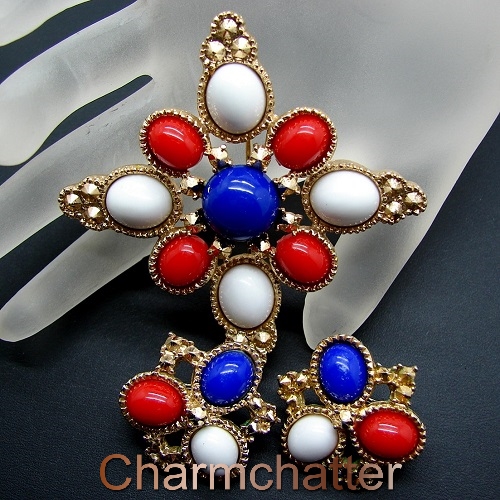 Emmons began as a home fashion and jewelry sales company, founded in 1948 by Lyman Stuart and named after his mother Caroline Emmons Stuart.  About a year later the home fashion line was dropped and it became Emmons Jewelry.  At around the same time, 1949, Lyman's father Charles Stuart, started Sarah Coventry Jewelry.  He used the name of his granddaughter Sarah Coventry Beale for the company name.
Both companies outsourced the manufacturing of their jewelry to freelance designers like Delizza & Elster, allowing them to focus on marketing.  Emmons jewelry was generally more expensive than Sarah Coventry and less was sold.   That's why Emmons is harder to find now.
In addition to home parties Sarah Coventry jewelry was given away on television game shows and at beauty pageants.  They advertised their brooches, earrings, watches, rings, necklaces and bracelets as "For the Woman Who Dares To Be Different".  With "Styes to Fit Your Work Life, Everyday Life, and Special Events."  The company offered a lifetime guarantee on workmanship and quality.
Both Emmons and Sarah Coventry featured matching sets of jewelry as well as individual pieces.  The sets are hard to find in-tact and complete.  Collectors are constantly looking for pieces that have been separated.  Most of the coordinated jewelry was only made for a few years and they had specific names so collectors use the names and date to identify their finds.
Emmons jewelry is marked with:
"Ce" with the small e inside a large C"
"EMJ"
"Emmons"
Sarah Coventry marks are:
"Coventry"
"Sarah Coventry"
"SC"
"Sarah"
"SaC"
"Sarah Cov"
Both Emmons and Sarah Coventry ceased to be in the 1980s.  Emmons went bankrupt in 1981 and Sarah Coventry closed in 1984.
Summary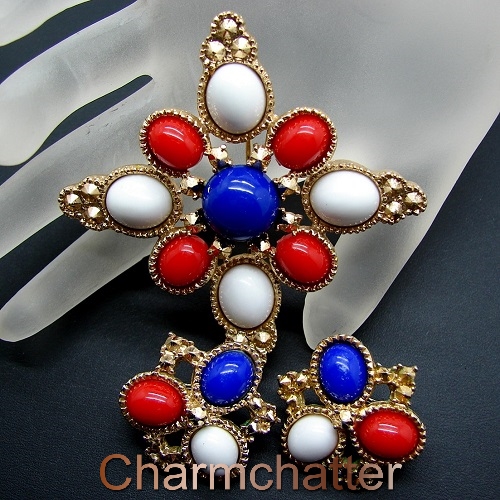 Article Name
Sarah Coventry and Emmons Jewelry Companies - A Family Affair
Description
Sarah Coventry and Emmons jewelry were both sold at home parties from 1948 til the 1980s and are some of the most collectible vintage jewelry.
Author




Category: All About Old Jewelry
Wanda Fitzgerald is a Florida native and an vintage charm collector who loves to share her adventures in an e-commerce jewelry business with anyone who is interested.