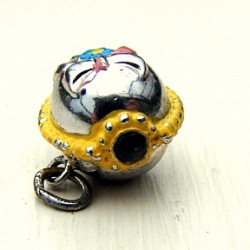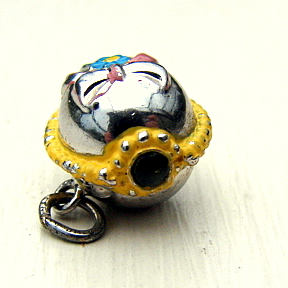 I frequently get this question from readers and customers.  The short answer is that a Stanhope is a tiny peep hole, called a lens, containing a micro photograph and inserted into a novelty souvenir.  The photo inside these trinkets is the size of a pinhead and has to be held up to a light and close to one's eye to view the image.
The lens was invented by Charles, 3rd earl of Stanhope in the late 18th century.   His creation was commonly used in travel souvenirs beginning in the mid 1800s through the 1970s.  A typical type of Stanhope souvenir is a tiny pair of binoculars with a scene of a tourist destination inside.  Popular image examples are the Golden Gate Bridge and the Eiffel Tower, but they can be found with photos of attractions from around the world.
Other common themes for Stanhope lenses are royalty images, especially Queen Victoria, political figures, and religious icons.  Stanhopes can be found in a wide variety of collectibles ranging from sewing accessories, to writing instruments, to jewelry.
Tomorrow I'll focus on Stanhopes in jewelry and how to care for them.  Stay tuned......
Summary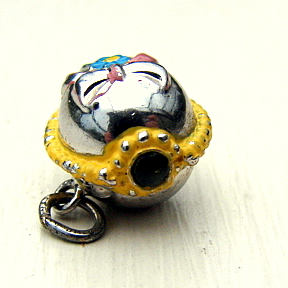 Article Name
Stanhope Lenses - What Are They?
Description
Stanhope Lenses History and Meaning
Author




Category: All About Old Jewelry
Wanda Fitzgerald is a Florida native and an vintage charm collector who loves to share her adventures in an e-commerce jewelry business with anyone who is interested.