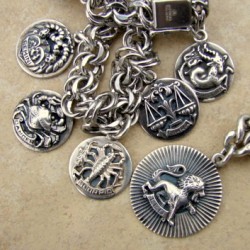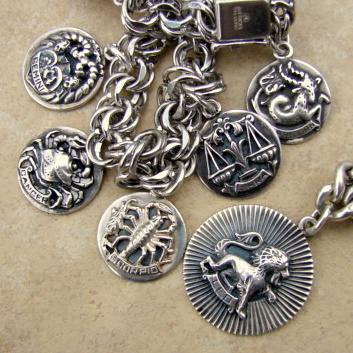 The Cini Jewelry Company makes some of the most intricate and popular vintage jewelry available.  I've started a collection of Cini Zodiac charms and I've also sold a few Cini vintage silver pins so I decided to see what I could find out about them.
The company was founded by Guglielmo Cini, who was an Italian jewelry maker.  He came to the United States in 1922 at the age of 17 and set up a shop in Boston Massachusetts, where he remained until 1957.  During that time he and one of his designers, Felipe Mendosa, created both fine and costume jewelry using hand crafted, master jeweler techniques.  The early pieces were marked "Guglielmo Sterling" in a rectangular box.
Guglielmo Cini frequently incorporated faceted colored rhinestones in his designs.  The jewelry was high quality and began to attract a clientele in the Hollywood film and theater business.  In 1957 Cini moved his operations to Laguna Beach, California and remained there until his death in 1979.
Many of the Cini pieces are reproductions of antique jewelry, but he also produced many original creations.  Most of the later pieces are signed "Cini" or "Cini Sterling".  Cini vintage jewelry is highly collectible today and sought after by avid collectors.  The company went out of business in 1970, but was reopened by Cini's granddaughters in 1993 in Solana Beach California.
Summary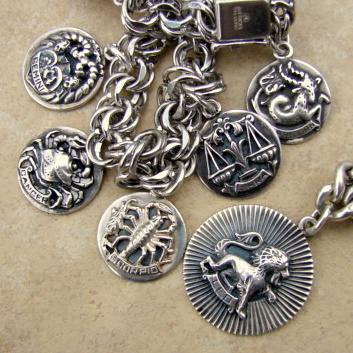 Article Name
Cini Sterling Silver Vintage Charms and Jewelry
Description
A few remarks about Cini vintage jewelry and the history of the company.
Author




Category: All About Old Jewelry
Wanda Fitzgerald is a Florida native and an vintage charm collector who loves to share her adventures in an e-commerce jewelry business with anyone who is interested.