Recently I acquired this lavaliere necklace for resale and when writing the description, I realized I don't really know much about lavaliere necklaces and pendants.  So I did a quick internet search and found out a few things. For those of you that aren't familiar with this type of jewelry here's a quick primer.
A lavaliere is a type of necklace with a drop stone suspended from a chain that's attached to the necklace.  It generally is not removable from the chain.  The first historical reference was traced to the Duchess de la Valliere, who was a mistress of King Louis XIV of France in the seventeenth century.  After that they seemed to have fallen out of favor for a few hundred years.
Then around 1900 the lavaliere necklace resurfaced when an actress named Eve Lavalliere began wearing a long necklace with 2 overlapping pendants intertwined.  In the 1920s it became popular and was worn in an art deco style.  And the drop pendants were frequently seen on flappers as they danced the Charleston in speakeasies during Prohibition.
After the 1930s the popularity of lavalieres dwindled, but they were still produced in smaller numbers.  They are easy to find in vintage jewelry shops or online, often made of fine gold or silver with colorful gemstones. I think they dress up any fashion and I suspect some are collectors items.
I've made an Etsy Treasury of some lovely examples for you viewing pleasure.  You can access it by clicking this link -->>  Lovely Lavalier Pendants and Necklaces
Summary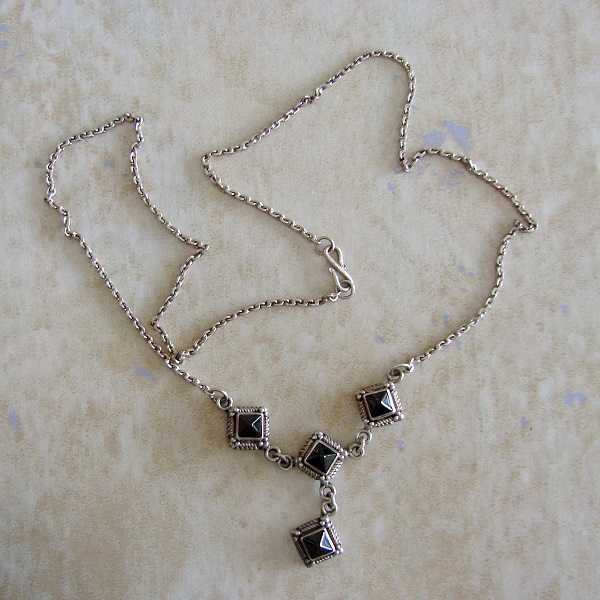 Article Name
Lavaliere Necklaces and Pendants - An Easy Overview
Description
Ever seen a lavaliere necklace in an estate jewelry shop or online and wondered what the name means? I can give you the quick and dirty description
Author




Category: Other Beautiful Jewelry
Wanda Fitzgerald is a Florida native and an vintage charm collector who loves to share her adventures in an e-commerce jewelry business with anyone who is interested.