The Algerian Love Knot necklace worn by Vesper Lynd is an original designed specifically for the movie Casino Royale.  Commissioned from Sophie Harley, the necklace consists of four interlinking metallic rings that have been flattened and decorated with an intricate Arabic design.  The design is intriguing and mysterious, and compliments Vesper Lynd's seductive beauty. The necklace was an instant hit with fans and jewelry companies began producing replicas almost immediately.  The versatile design is loaded with character and is a classic and stylish accessory. This necklaces comes in many different sizes and styles, and work with almost any outfit.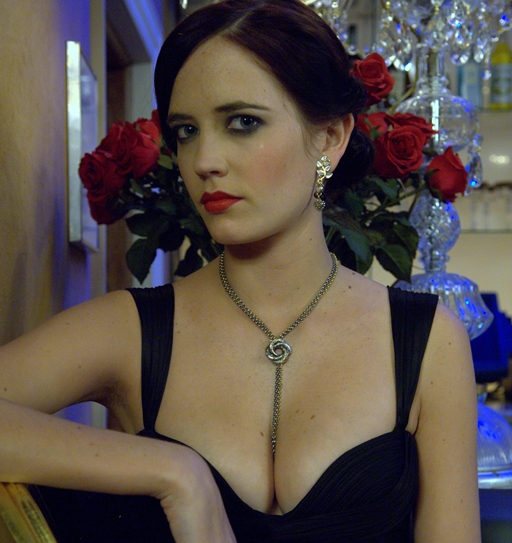 Algerian Love Knot Jewelry Reproductions
Budget Alternatives to The Original Sophie Harley Design
Jewelers in the United States right away designed their own budget conscious Bond Girl Algerian Love Knot jewelry. The reproductions are high quality sterling silver and have been coveted by women around the world. They are a great value for money and fit almost everyone's budget. You will be delighted with the quality and construction.
 Eves Addiction Sterling Silver Algerian Love Knot Necklace and Earring SetBuy Now Petite Algerian Love Knot NecklaceBuy Now Eves Addiction Sterling Silver Algerian Love Knot EarringsBuy Now
Scenes from Casino Royale With Vesper Lynd and James Bond - You Can See the Algerian Love Knot Necklace Here
The Original Sophie Harley Design
The exclusive Sophie Harley designed Algerian Love Knot necklace created for the lovely James Bond actress Eva Green is crafted from solid 18ct gold and encrusted with diamonds. The London based celebrity designer sells a similar handcrafted necklace made of sterling silver and 22 carat gold plate in her designer showroom. The love knot is a symbol of enduring and eternal love that has captured the eyes, minds and hearts of a worldwide audience.
I Love Reader Comments - Love Knot Or Otherwise
Summary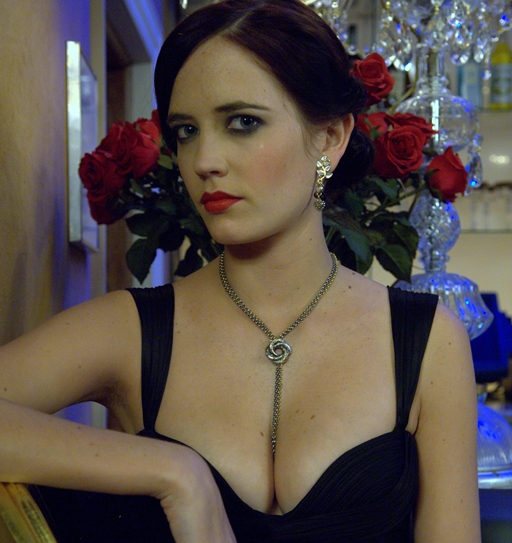 Article Name
The Vesper Lynd Algerian Love Knot Necklace
Description
Actress Eva Green wore the Algerian Love Knot necklace throughout the James Bond movie Casino Royale. It became one of the hottest jewelry items of the decade.
Author




Category: Other Beautiful Jewelry
Wanda Fitzgerald is a Florida native and an vintage charm collector who loves to share her adventures in an e-commerce jewelry business with anyone who is interested.