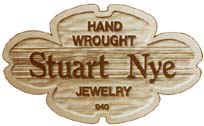 I've had quite a few pieces of Stuart Nye jewelry since I've been collecting. The problem with having Nye jewelry is that someone always wants to buy it from me. And I usually sell what I'm wearing for a tidy profit and forget about it until I see another piece that I can't live without.
The Stuart Nye company has been creating beautiful handmade flower and leaf design jewelry since 1933. The founder started creating bangle bracelets in his home during the Great Depression, and eventually expanded into a rustic studio shop in Asheville North Carolina, where it thrives today.  Inspired by the blooms outside his workshop windows in western North Carolina, Stuart Nye made his first sterling silver dogwood pin by hand.  Since then his original designs have become popular internationally.
After more than 75 years in business these nature inspired designs have remained true to the founder's first vision for his jewelry.  Although the medium has changed, the company has added copper and brass to the types of materials used, the basic styles and method of manufacture have remained constant.  They still use the old fashioned chisels, files, and cast iron anvils that a blacksmith would use to craft the beautiful pins, earrings, pendants and charms they sell.
There are a few older pieces that are no longer made and are typically more valuable that new Stuart Nye jewelry so I always look for these when I'm shopping for vintage jewelry.  These always sell quickly.  However, their new products are lovely and in high demand.  To buy new Stuart Nye jewelry visit the website at www.stuartnye.com.    And for vintage pieces, watch online marketplaces and antique shows.
Summary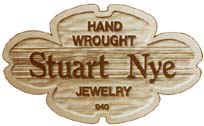 Article Name
Stuart Nye Handmade Nature Inspired Jewelry
Description
After more than 75 years in business Stuart Nye nature inspired jewelry designs have remained true to the founder's first vision for his jewelry
Author




Category: All About Old Jewelry
Wanda Fitzgerald is a Florida native and an vintage charm collector who loves to share her adventures in an e-commerce jewelry business with anyone who is interested.