Question for my readers - Do any of you collect vintage Monet charms? If so what kind? Do you collect a particular theme, a metal color, etc.  Are you happy with them, as in are they comfortable to wear?  And do you have any specific likes or dislikes?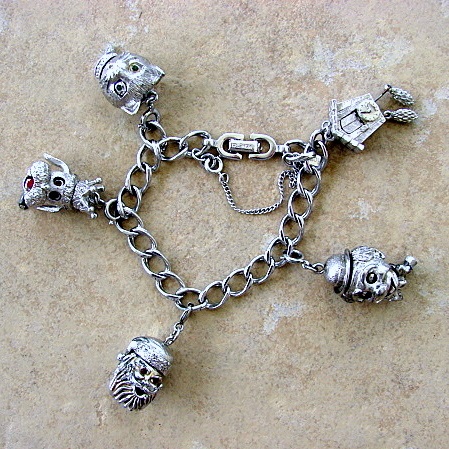 I've got one silvertone Money charm bracelet, pictured above and in a previous article, that has charms with a pull down mechanism.  That's the extent of my knowledge & experience of Monet charms, other than having sold a few here and there.  I know the charms I have also were available in goldtone, as are most Monet charms.  Lately I'm paying more attention to the brand and did a little online research.  One particular blog site, Monet the Book , authored by Alice Vega,  seems to have lots of credible information.  Ms Vega also wrote the Monet the Book book, which is on my wishlist.
In my research I found out Monet started out as the Monocraft Company in 1919 when Michael and Joseph Chernow began producing monogram decals to apply to automobile doors.  In the late 1930's the company began making costume jewelry. They hired a fine jewelry designer, formerly of Cartier, and changed the name to Monet.  Their early jewelry drew inspiration from Coco Chanel and Elsa Schiaparelli, but with particular attention to the design and quality of the metal, rather then rhinestones and gems.
In the late 1940s Monet first began selling goldtone and silvertone charm bracelets.  During this period the bracelets came with one large charm.  I can see the Chanel influence here.  The most popular designs were a pair of lovebirds, a clover, and a perfume flask.  If I decide to collect Monet charms one of these will definitely be on my bucket list.
Monet multi-charm bracelets became popular in the 1960s.  Monet charms during this time typically represented animals, everyday objects, and peace/love hippee theme designs.  Also during the 60s they began selling fine jewelry under the name Ciani.  I've seen plenty of sterling and karat gold Ciani charms and until now had no idea they were related to the Monet company.
Because of the Monet company's attention to high quality metal craft, and triple plating on costume jewelry, many of the vintage charms show very little wear even after being around for decades.  One of the best things about Monet charm bracelets is they are still very reasonably priced and accessable. You can find starter bracelets and individual charms in excellent condition for under $20.  Or buy complete bracelets if you aren't interested in starting from scratch.  Monet charms are super easy to find on sites like eBay and Etsy.  You won't even have to scour antique shops and flea markets.  I'm leaning towards starting a collection soon.
Summary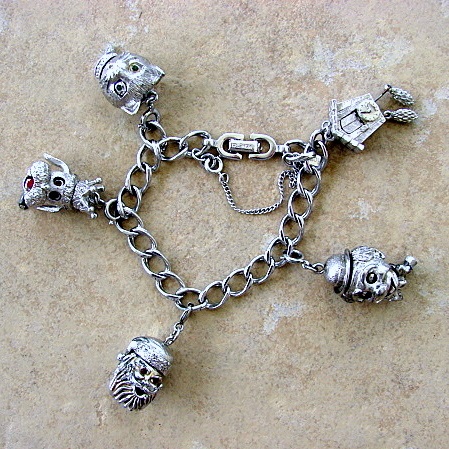 Article Name
Monet Charms - To Collect Or Not?
Description
Question for my readers - Do any of you collect vintage Monet charms? If so what kind? Do you collect a particular theme, a metal color, etc and are you happy with them?
Author




Category: Fitzcharming's Collections
Wanda Fitzgerald is a Florida native and an vintage charm collector who loves to share her adventures in an e-commerce jewelry business with anyone who is interested.